If you're feeling in need of a vacation, it may be time to treat yourself! Our Gatlinburg hotel on the river has everything you need to enjoy a vacation that is both relaxing and exciting, with premium amenities, great nearby activities, and more. Read on to find out everything you need to know in order to plan the perfect stay at our Gatlinburg hotel on the river:
When should I come to visit?
While there is no wrong answer to this question, when you come to visit may depend on what you are most interested in doing during your stay! For instance, many people love coming to visit during the fall because it allows them to see the gorgeous changing of the leaves that takes place each year. Those who come during the winter will be able to enjoy the seasonal Christmas celebrations that take place throughout the area and do some festive gift shopping as well. Additionally, spring and summer bring excellent opportunities to enjoy the beautiful weather of the Smoky Mountains, so no matter what time of year you choose to come stay with us, there will be lots of exciting activities to choose from!
What room type is right for me?
Another part of planning the perfect stay at our Gatlinburg hotel on the river is choosing the best room for your needs. Fortunately, we have a wide selection of room choices that will allow you to find a perfect fit for you and any others you are visiting with, whether it be family, friends, or both. For instance, families love our two room family suites, with a king or queen bed in one room, and bunk beds in the other. On the other hand, couples tend to enjoy our King Executive Suite with a soaking tub. We truly have room options for all needs and preferences!
What amenities will be available?
Here at our Gatlinburg hotel on the river, we offer a variety of nice amenities that are designed to make your stay with us as comfortable as possible. You can start your day off right with our complimentary deluxe continental breakfast each morning, work out in our 24-hour fitness room, and take a dip in the outdoor pool from April-October. Plus, we have complimentary Wi-Fi in all rooms and our lobby, ensuring that you have convenient access to all the information you need to make your stay a success. These amenities and more are just another part of our commitment to helping you have the best possible stay with us!
What attractions are nearby?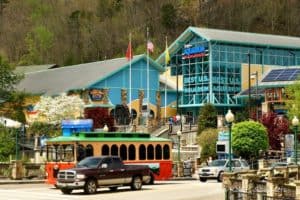 Our Gatlinburg hotel on the river has a convenient location near some of the top attractions the area has to offer. For instance, Ripley's Aquarium of the Smokies is just across the street from our hotel, offering the chance to get a look at over 10,000 sea creatures, from sharks to stingrays and more. Another great nearby attraction is Anakeesta, where you can embark on exciting rides, explore unique areas, and see the mountains like never before. These attractions and more are just steps away from our Gatlinburg hotel, so you'll have lots to choose from when you come to visit!
What dining options are available?
Our Gatlinburg hotel's convenient location also means that there are plenty of great dining options located nearby as well. One popular spot that's just a short walk from us is No Way Jose's Cantina, a family-friendly Mexican restaurant that's also located along the river here in Gatlinburg. Another popular spot nearby is Chesapeake's Seafood and Raw Bar, which serves up some of the best seafood around! These are just a few of the dining options near our hotel, so you'll never run out of choices.
Now that you know all about planning the perfect stay at our Gatlinburg hotel on the river, you're all set to get started. Check out our selection of rooms and start planning your dream getaway today!